Activities
We will have many activities available as well as plenty of time to socialize and meet the new "family". There will be some dancing at the reception, of course, and we'll have a simple dance lesson prior taught by the bride and groom. And that lesson will be mandatory, even for my brother Mike. There will also be all sorts of ridiculous arts and crafts and games throughout the day, whether it's writing love letters or playing with Nerf Guns.

We will also have a talent show / cabaret Sunday night as well, and we are stealing the cabaret skit qualifications from Herrang Dance Camp:
"It doesn't have to be good, it just has to be short"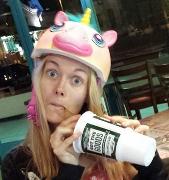 So bring whatever talents (or "talents") you may have to share with everyone. :) You may also be roped in to making a wedding music video with us, but don't worry, no dancing will be required (unless you'd like to!) Also note that there is a hot tub! So bring a swim suit.